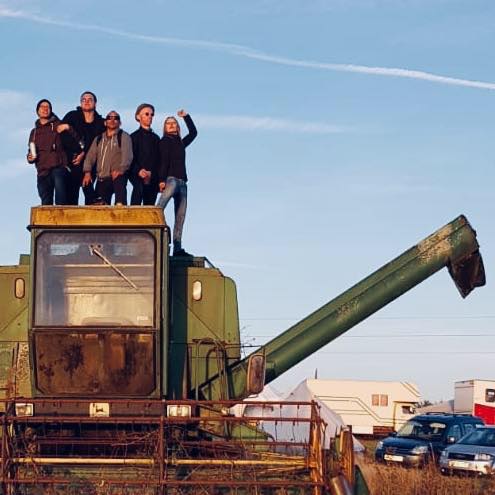 Q) : What's on this week's Just Some Punk Songs show (Sunday 10th Feb 8 pm UK time :
https://www.facebook.com/events/552069175312614/
)
A) : An hour
of the best new punk releases including the song that's being highlighted on here today. Feel free to join me if you're a fan of new punk music.
Spanner are a militant ska punk band from Easton, Bristol who've "been mixing politics and pleasure" since around 2000. It's been a while coming but they've just released new album We Won't Be Stopped. 12 tracks of well written and highly catchy social commentary you can find it name your price on Bandcamp : https://spanner.bandcamp.com/
It'll also be available on cd and vinyl and there'll be a proper album launch, a benefit for Bristol Antifascists, at the Red Lion in Easton on March 30th. Find out more details here : https://www.facebook.com/spanner.easton/
Above It All, 12 tracks of agitation and revolt in which the lyrics are lengthy and thought provoking whilst the music will get you dancing as you rage against abuse and brutality, raise your fists to fight fascism, pile your barricades high to thwart the bailiffs or bring Jeremy Kyle to account. I can't imagine why anyone who's reading this wouldn't want this album so go get it, listen to it and join the struggle.
This song deals with animal rights and the capacity of the human race to destroy. It's called Above It All...

Separation, exploitation
You can justify anything
When every living thing's at our disposal
And you think the human race is king
Property, authority, hierarchy
Lies at the root of it all
But from where you think you're stood on top of the world
There's a very long way to fall
Objectification, severed relations
Numbers replace lives
Mass torture, cruelty, abuse and slaughter
Are neatly normalised
CH:
Categorised as commodities
Legitimises the atrocities
Ringing any bells from history?
Let's fight like hell for all to be free
Domination, subjugation
Ours is the loudest voice
But what makes our species really stand out
Is it's capacity to destroy
Domestication, annihilation
For fun, food, profit and science
Unquestioning acceptance
Of horrific daily violence
CH:
It's not up to us how other animals should behave
We've got no place to control or to enslave
What makes you think that you can decide their worth
Their lives, their conditions, their death and their birth?
Why do you accept that human progress and gains
means inflicting so much misery, suffering and pain?
The slaughterhouse, the zoo and the laboratory cage
Must be demolished and abolished with all our rage
But we can't stop there because there's so much more
Total liberation is what we're fighting for