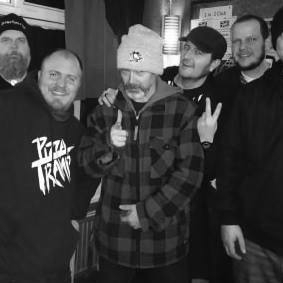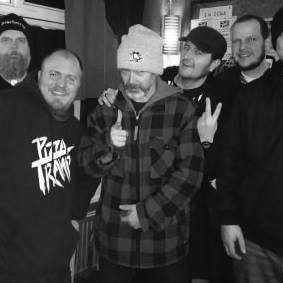 Usually these introductory write ups are a couple of paragraphs long before I leave you with the bit you come for, the music. For today's band
though I could probably fill those paragraphs just by listing the other bands the members of PI$$ER feature in. So let me do that then I don't have to write much more...
VOCALS: James Domestic (THE DOMESTICS, DIS-TANK, BRING THE DRONES)
GUITAR: Bri Doom (DOOM, SORE THROAT, LAZARUS BLACKSTAR)
DRUMS: Charlie Claesson (ANTI CIMEX, WOLFHOUR, BRING THE DRONES, THE PARTISANS)
GUITAR: Matt Woods (REVENGE OF THE PSYCHOTRONIC MAN, DISSIDENTS)
BASS: Rhodes (THE DOMESTICS, HOBOPOPE & THE GOLDFISH CATHEDRAL)
SAX: Eddie O'Toole (THE SHITTY LIMITS, PERSONNEL, THE FILAMENTS, BEAT THE RED LIGHT)
I guess they're what you could call a supergroup!
They've just released their debut ep, it's a pounding punk rager combining Swedish inspired D-Beat/Hardcore with a saxophone that'll conjure up thoughts of The Cravats. It's titled Wretched Life and it's available on 7" (limited to 300 copies so be quick) via Kibou Records : https://kibourecords.bigcartel.com/product/pi-er-wretched-life-7-e-p-pre-order
A couple of tracks are on Bandcamp :
Find out more here : https://www.facebook.com/Pisser-Band-2173718409610186/
Now that the formalities are complete I can quickly tell you that this is my pick of the bunch, James' dulcet tones battle that discordant sax and a thunderous backbeat to produce a glorious racket. I Won't Repent...
FIRE A SHOT OF OUTRAGE - FUCKING BRING IT ON
YOUR MORAL STANDARDS ARE JUST A FUCKING CON
CAN SEE IT IN YOUR FACE – YOU DON'T EVEN REALISE
YOU'D RATHER LIVE IN CHAINS AND BLINDLY SACRIFICE
LIVE A TICK-BOX KIND OF LIFE – WHAT MAKES YOU THINK YOU'RE QUALIFIED
(TO BE) PASSING JUDGEMENT ON A WAY TO LIVE THAT MAKES YOU SO FUCKING DEFENSIVE?
THOSE THAT STEP OUT OF LINE ARE JUST SAVAGES TO BE TAMED AND WASHED CLEAN
I AIN'T GOT TIME FOR YOUR HYPOCRISY – 'COS I'VE GOT MY OWN MORALITY

I WON'T REPENT

SLAVING OVER TACTICS - BUT YOU'RE OUT OF LUCK
YOUR STANCE AND WORLDVIEW ARE TOTALLY FUCKED
NONE OF YOUR FUCKING BENCHMARKS LOOK ALRIGHT TO ME
YOU CAN STICK YOUR PROSELYTISING ABOUT HOW THINGS OUGHT TO BE
ANYTHING YOU DON'T UNDERSTAND IS A TARGET FOR YOUR HATE
CAN'T EVEN CONTEMPLATE THIS STUFF - YOU'RE SO BLINDED BY FAITH
THOSE THAT STEP OUT OF LINE ARE JUST SAVAGES TO BE TAMED AND WASHED CLEAN
CONTRARY TO YOUR IGNORANT BELIEFS, I'VE GOT MY OWN MORALITY

I WON'T REPENT