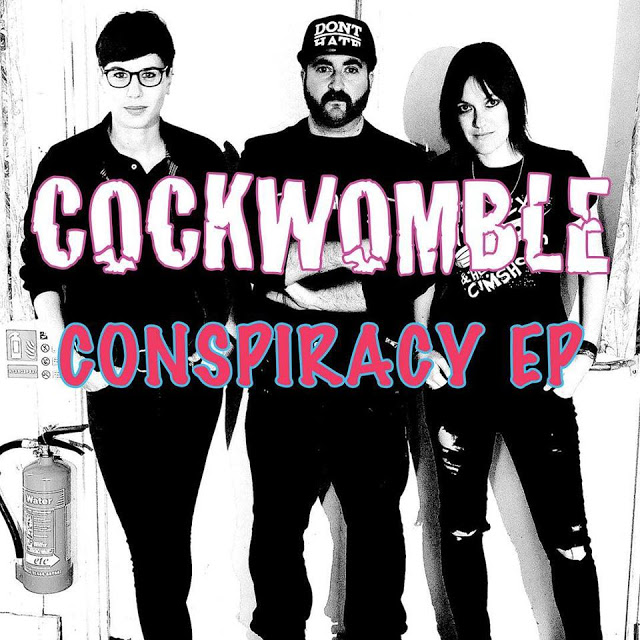 Brighton band Cockwomble are preparing to release their 3rd ep (their first 2 were great and featured here :
https://justsomepunksongs.blogspot.com/2018/07/cockwomble-henchmen.html
and here :
https://justsomepunksongs.blogspot.com/2018/10/cockwomble-want-stuff-buy-stuff.html
). It'll be
available on cd and digital download on the 5th April and the title track is highlighted today. There's a video for it online so you may have already heard Conspiracy but thanks to bassist Vicky Smith I'm playing a song you possibly won't have heard (Joey Ramone) on today's Just Some Punk Songs show. Definitely worth tuning in for, join me at 8pm (UK TIME) here : http://mixlr.com/global-punk-radio/
Alongside Vicky Smith (who you may also know from her other band The Ramonas) Cockwomble also feature Ali Gavan (vocals/guitar) and Leah Dennison (drums). Combining anger and humour they shine a light on modern day society. Their songs are catchy but take no prisoners, razor sharp and biting. The new ep is released in advance of support slots with classic bands Subhumans and UK Subs and their first appearance at the Rebellion Festival. For more info check here : https://www.facebook.com/cockwombleband/
If you want to pre order the ep go here : https://cockwomble.bigcartel.com/

They claim their music is for fans of Idles, Ramones, Undertones, Adverts, McClusky, Supergrass, Beastie Boys, Peter, Paul & Mary and Husker Du. An eclectic bunch indeed! The ep features 4 songs (all winners); Goebbels & Orwell is about how there's a fight coming and everyone's going to have to choose a side (community can triumph over hate). It's OK To Punch A Nazi is self explanatory (if it walks like a duck and it quacks like a duck, goosesteps like a duck then punch it you're in luck...). Joey Ramone was written as the band hate U2's song about the great man so much they thought they better write a decent one (yep, they've definitely written a decent one!).

And then there's the title track. It's about how dumbass conspiracy theories distract from life's real villains "It's not aliens mate, and it's definitely not the Jews." As I mentioned earlier, anger and humour (plus clever lyrics and great riffs). A killer ep.

This is conspiracy...