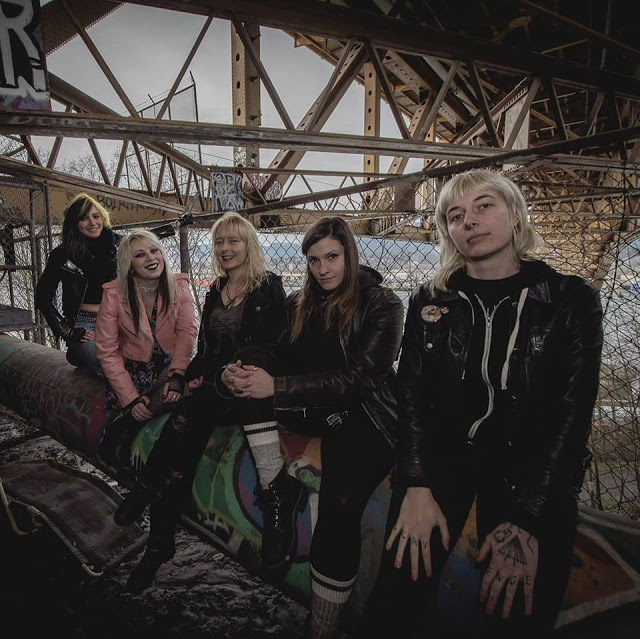 (photo : Milton Stille)
Alien Boys are a raucous all female 5 piece punk powerhouse from Vancouver who recently released new album Night Danger and who's record
release show yesterday at the Wise Hall saw them share a stage with Just Some Punk Songs' favourites Fashionism.
Their debut 7 track release, Self-Critical Theory came out in 2016 and earned them comparisons with the likes of The Gits, L7 and fellow Canadians White Lung. They are in fact the band that feature Wretched Erin, guitarist with the much missed Rebel Spell. The new album should see them judged on their own terms, it's sonically powerful and like yesterday's featured band Spanner, the lyrics (courtesy of singer Sara) are lengthy, intelligent and can possibly be summed up with the phrase the personal is political. There's lots of thought gone into the songs on this album. You can find it name your price on Bandcamp :
">
This is the video they've released, it's for Bender, a song that deals with escapism through alcohol in a darkly poetical manner....
who here could use a drink, drown out the sirens
my eyes half closed and red like the horizon
my skin pricks, and my jaw twists, and the failing light of day promises me soon it will all go away...
oh, satisfaction here beyond a doubt
taking the easiest of all the routes
to feel anything but trapped within this skin so confining
and there is not a price i wouldn't pay
cause we're all looking for the easy way
to forget ourselves – and numbness seems to drown out my lived violence
and there was nothing left for you to do oh, but pour another drink or two
and there was nothing to figure out from all these pieces
that are always falling – that are always falling on the ground from
all this excess
i was always falling – i was always falling on the ground, on the ground, i was falling on the ground
oh there is no one that is more devout
pray at the altar with an open mouth
purge out all these spirits – confessions in the stalls of a bathroom and when it's hard to keep my vision straight
and i can't remember my very name
that's when i'll forget every regret that i've had before now
and there was nothing left for me to do oh, but have another bump or two
and there was nothing to think about cause i'm in pieces
that are always falling – that are always falling on the ground from
all this excess
that are always falling – that are always falling on the ground, on the ground, i was falling on the ground
so now the bar is closed, but i'm not done
and you are looking like the only one
who is on my level, sinking faster with every passing second and before i am sure that this is right
i ask you if you want to spend the night
because being full is much better than being empty handed
and there was nothing left for me to prove
my mind was still, my body making moves
and there was nothing left – i had blacked out... cause i'm in pieces
that are always falling – that are always falling on the ground from all this excess
that are always falling – that are always falling on the ground from all this violence
that are always falling – that are always falling on the ground from...
i don't like this
that are always falling – that are always falling on the ground, on the ground, i was falling on the ground